Sutherland Has Served as Citizens' Director, Government & External Affairs Since 2014

INDIANAPOLIS – Citizens Energy Group announced today that Joseph M. Sutherland has been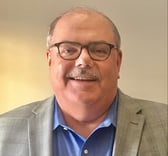 named Vice President, Regulatory & External Affairs. Sutherland succeeds LaTona P
rentice, who retired earlier in March after more than 37 years at Citizens. Sutherland has served as Directo
r, Governm
ent & External Affairs since 2014.
"For nearly eight years, Joe Sutherland has skillfully led Citizens' government affairs initiatives and strategy, as well as participated in regulatory matters including strategy development, communications, and evaluation of regulatory filings," said Jeffrey Harrison, Citizens President & CEO. "He also has been vital to developing and maintaining key external relationships for Citizens. I look forward to Joe's leadership in this new role in serving Citizens and our community."
Prior to joining Citizens in 2014, Sutherland was the President and Managing Director of Utilitus, LLC, a consulting practice focused on strategic public policy development, legislative representation, and regulatory advocacy for utility industry clients. Prior to that, Sutherland spent 17 years at the Indiana Utility Regulatory Commission in positions of increasing responsibility, including Director of Operations, Chief Operating Officer/CFO, and Executive Director for Governmental Affairs/CFO. He is a graduate of Indiana University with a Bachelor of Science in Business and concentrations in Accounting and Finance.

Sutherland also is involved with several industry and community organizations, including the Indiana Chamber of Commerce, American Water Works Association (AWWA), Indy Chamber Business Advocacy Committee, and the Indiana 211 Advisory Board. In addition, Sutherland is a former board member of the Fathers & Families Center, past AWWA Central District Trustee, and former Board Chair of the Indiana 211 Partnership Board.