Artists Will Transform Manhole Covers into Works of Art Inspired by Indy's Waterways
INDIANAPOLIS – Citizens Energy Group invites the community to the DigIndy Art Project event this Saturday where five local artists will transform manhole covers into works of art inspired by the DigIndy Tunnel System project and the beauty of area waterways.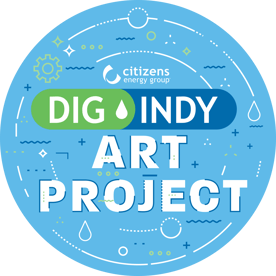 Scheduled from 10 a.m. to 4 p.m. at the intersections of Mass. Ave., Alabama and Vermont Streets, the event will also highlight Citizens' DigIndy project that has begun restoring area waterways. When complete, the manhole covers will be placed along the Cultural Trail and be displayed in an upcoming exhibition at the Harrison Center for the Arts. Featured artists include Fab Crew, Gary Gee, Megan Jefferson, William Denton Ray and Blend Creative Minds.
Visitors will have the opportunity to meet the artists and watch them work, experience for themselves the DigIndy Tunnel System with a virtual reality tour of the largest infrastructure project in Indy's history, and enjoy downtown Indy. The Kona Ice food truck will be on hand with frosty treats for purchase and 92.3 WTTS will provide music and giveaways.
The DigIndy Tunnel System, a 28-mile network of underground tunnels now under construction, will nearly eliminate sewer overflows in Marion County by the year 2025. The first 10-mile segment of the tunnel system opened at the end of December and has already prevented more than 300 million gallons of raw sewage from entering our waterways.
"The DigIndy Art Project event and virtual reality tour of the tunnel are part of our ongoing efforts to educate the public about the transformational benefits DigIndy is providing to our community," said Jeffrey Harrison, President & CEO, Citizens Energy Group.
Learn more about the artists and the DigIndy Art Project by visiting DigIndyTunnel.com/Art.