Homes and Local Businesses Will be Accessible During Construction
INDIANAPOLIS – After consideration of feedback from the community, Citizens Energy Group has decided to delay the start of its DigIndy project along Shelby Street until May 7. The project had previously been scheduled to begin April 9.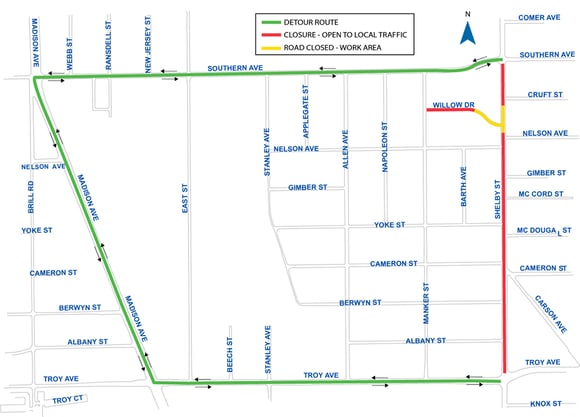 From May 7 to October 31, 2018, Shelby Street will be restricted or closed to through traffic between East Troy Avenue and East Southern Avenue as a result of construction for the DigIndy Tunnel System which is also being coordinated with the IndyGo Red Line construction in the area. Detour routes will be clearly posted, and commuters should take precaution and follow all posted signage. Businesses located along the Shelby Street closure route will remain open and accessible, and local residents will still be able to reach their homes. Citizens will soon announce a project open house prior to construction via social media.
"We believe delaying our work along Shelby Street will help ensure a smoother transition for the local community, including accommodating upcoming events such as the commencement at the University of Indianapolis," said Mark Jacob, Vice President, Capital Programs & Engineering.
Major elements of the project in this area include underground infrastructure that will capture and divert combined sewer overflows to the Pleasant Run Tunnel, a portion of the DigIndy Tunnel System to be completed by 2025. Citizens' work on this stretch of Shelby Street will also include the relocation of natural gas and water lines, which may cause temporary service disruptions in the area. Residents and businesses will be notified 24-48 hours in advance via door tags if their service will be impacted.
To learn more about how the DigIndy Tunnel System will improve our community, visit www.DigIndyTunnel.com. For construction updates, follow us on Twitter: @DigIndy or check www.DigIndyTunnel.com/Projects. Visit www.CitizensEnergyGroup.com/Construction to view all projects on the Citizens construction map.